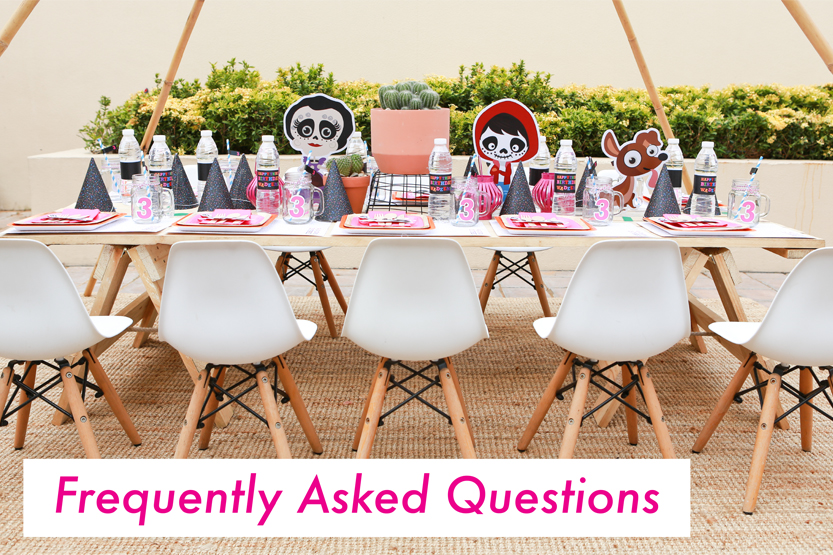 How do we get in touch?
The best thing to do is complete our enquiry form. That way we have all the info we need to send you a quotation. Our level and frequency of communication will depend on the level of service you require. We offer whatsapp and phone communication during work hours and work days, but please keep in mind on the weekends we will also be juggling events.
How long does it take for you to send a quotation?
This all depends on your initial requirements. It is important to us that we look into new ideas and offer the best possible options for what you are looking for. We have lots of fabulous vendors that we work with and often it may take slightly longer if we are waiting for pricing details from them. We also love working at the parties we put together for you, so quite often on weekends and sometimes Thurdays we are slightly busy. Some clients even like their parties during the weekdays too, but we promise we try our best to get back to you within 24hrs!.
I don't need event planning, can you still help with my event?
Yes, of course we can. Have a look through our website, instagram, facebook or pinterest for ideas and inspiration. Once you've got your ideas together send us your requirements through the enquiry form on our contact page.
Why can't I find a price list on your website? 
We don't work with price lists purely because every event is different. When putting together a quotation we calculate based on the number of children participating in the activity and also can you imagine having to list off all the different activities we can do?? This list is almost infinite as quite often we try new activties we haven't done before! We love new activity suggestions too.
Do you have packages?
Yes we do, however these are for venues only. Every single event we do is unique and it is custom to you and your event requirements. Instead of packages, we customise a quotation suited to you and if you fill out our enquiry form, these are all the details we need to put this together!
How far in advance should I book my event with me&riley?
This is a tough one! It all depends on our availability for that particular date. 3-4 weeks in advance is the most ideal timing, however some events will take longer to put together than others depending on the final requirements and details.
Do you offer onsite meetings?
For sure! We do charge a fee for onsite meetings, so please let us know if this is something you require and we can let you know the pricing for this. Onsite meetings aren't always necessary and we are happy to take a look at your space via photos and videos, so send them through!
Can I please request only female staff during my event?
Yes, absolutely. We thrive on girl power! From set up & catering staff to the entertainers, we can provide 100% female staff for your event.
Is there a minimum cost for a me&riley event? 
The only minimum is our custom styled me&riley table setting. To keep a consistency with our events we ask that all bookings start with a table setting. Besides, who doesn't want a perfectly styled table to sit at!
What if I just need a custom made piñata, is this possible to order?
Yes, we love custom pinatas! Generally we need about 2 weeks notice to allow time to custom make and deliver your piñata with a delivery fee. Candy included or not, the choice is yours!
How can I pay for my event? 
A 50% deposit is required upon confirmation of your event and final payment may be made on the day of the event either by cash, transfer or cheque.
Will you provide staff at my event?
It does depend on your event requirements whether we quote you for staff. A number of our services include team members in their cost, other times there is an additional charge. Often clients love the additional help on the day so just let us know, we would be happy to quote you.
Can you put together all of the items that I need for my event and then send them to me because I don't live in the UAE?
Definitely! We can box everything up that you need and courier it to you within 2 weeks of your enquiry | we allow 2 weeks as many graphic items are custom designed and we need time to allow for approvals and printing.
What time will you arrive for set up?
We are eager to ensure that all details of your event are set up smoothly and efficiently with enough time before your event starts so we will communicate with you the week before your event to plan the timing details. We also base these timings on other bookings we have on the same day but on average a set up starts 2-3hrs before your event starts.
After the activities and cake at my event we are planning for our friends so stay longer so, can you collect everything the following day?
Yes we can, depending on our schedule as well as your schedule for the following day we will work with you to reach a suitable pack up time. Any team members at your event will tidy up what is not going to be in use and they will leave at the agreed time. Please note that we will need to know of a next day pick up in advance so that we can plan accordingly to avoid additional charges on the day of your event.